History of the Greater Patchogue Chamber of Commerce, Inc.
The Patchogue Chamber of Commerce was originally founded on March 4, 1923. On March 7, 1924, the Chamber held its first meeting and raised $6,200 from the 250 male and female community leaders in attendance. It then adopted a constitution and elected its first directors on April 4. On April 10, Jerome W. Ackerly was elected president; Reuben D. Krause, Edgar A. Sharp and Harry T. Weeks were named vice presidents; William H. Aldrich became treasurer and John R. Swezey, secretary.

The Chamber was re-incorporated as the Greater Patchogue Chamber of Commerce on March 12, 1999. The Greater Patchogue Foundation, the Chamber's 501(c)(3) component, was chartered in 2003.

The Chamber represents hundreds of its members and provides the services and resources to help them build their businesses, organizations and careers. By joining the Greater Patchogue Chamber of Commerce, Inc. you are not only helping yourself, you are helping to provide the community with the economic and social support that it needs to thrive.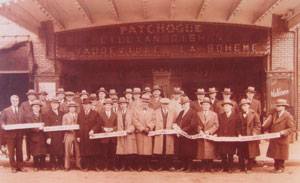 A photo circa 1923 of the first members of the Chamber
in front of the Patchogue Theatre for the Performing Arts on Main Street
PAST PRESIDENTS – PATCHOGUE CHAMBER OF COMMERCE
1950-1951 – LESLIE WEISS*
1951-1952 – JOHN ASTER*
1952-1953 – JACK LUCHSINGER*
1953-1954 – PETER SNYDER*
1954-1955 – IRV HAWKINS*
1955-1956 – EDWARD JANIC*
1956-1957 – WILLIAM GRIMMER*
1957-1964 – GEORGE FURMAN*
1964-1968 – GEORGE LECHTRECKER*
1968–1971 – LOUIS PFEIFLE*
1971-1973 – AL HALLEN*
1973-1974 – ALFRED CHIUCHIOLO
1974-1975 – DALE WHITLOCK*
1975–1983 – WALTER ROE
1983–1986 – GASPER CELAURO
1986–1987 – GEORGE ROE*
1987-1989 – HAROLD TRABOLD
1989–1992 – JOHN "Pete" ROE
1992-1993 – ARTHUR FUCCILLO
1993-1995 – WILLIAM KNAPP
1995-1996 – STEPHANIE SHERMAN
1996-1997 – GLENN DOMINQUEZ
1997-2000 – DOUGLAS STEIGERWALD
2000-2003 – VINCENT GRUCCI
2003-2005 – THOMAS KEEGAN
2005-2006 – NO PRESIDENT – OFFICERS ACTING AS PRESIDENT
2006-2007 - J.P. BROWN*
2007-2009 - CHARLES BAKER
2009-2011 - LORICE FIALA
2011-2012 - MINDY SKURA
2012-to present - JACQUELINE DUPRÉ HENSLEY

*denotes a member who has passed on